My Details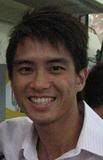 Name: Max Ng ZhenQiang
Blood group: O+
Horoscope: Gemini
Attached since: Nil
Single since: May 2007
Strengths: Fast Learner
Weakness: Tend to be distracted easily
Hobbies, interest, pastime: All kinds of ball sports which include handball, basketball and volleyball. My interest is in making learning new things and making things work. My favorite pastime is watching shows and anime which include Prison break, Heroes and One Piece.
Favorite Food: Hainanese Chicken Rice
Food I don't eat: Nothing much, eat almost every thing except for VERY VERY spicy food.
My craziest moment in my life so far: My craziest moment would be losing a game and had to perform a dare which involved kissing a guy.
My angriest moment in my life so far: My angriest moment happened when i was in secondary 2. One of my classmate accidentally spitted a chewing gum onto my hair and i have to cut off that part of my hair to get rid of the gum.
My saddest moment in my life so far: My saddest moment was when my grandfather pass away.
My happiest moment in my life so far: My happiest moment was when i first got attached in my first year of junior college.
I wished that I could … be the smartest person on earth.